Ultimate PROST FX

Prostate Gland Nutrition. by Dr. Joel Wallach
Ultimate Prost FX was developed for nutritional support of the prostate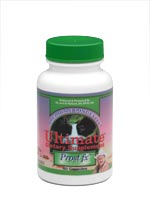 gland. An excellent product for men who are looking for a nutritional answer for optimal prostate health containing :
Saw Palmetto Berry, Horse Tail, Pygeum, Pumpkin Seed Standardized, Siberian Ginseng, Gingko, Selenium, and much more!
Prostate Health is important to every male.
One bottle provides enough for a one month supply. Suggested use is 1 - 3 capsules per day or as directed by your Health Care Practitioner.
For best results, we suggest using this product as part of a full Spectrum nutritional program, that also includes Majestic Earth Minerals, Majestic Earth Ultimate or Ultimate Daily.

Youngevity Independent Associate

Ingredients: Ultimate Prost FX ingredients listed below are used because each has a significant scientific evidence supporting it's use.

Saw Palmetto Standardized-160 mg
Sarsaparilla 4-1 extract-25 mg
L-Glycine-50 mg
Siberian Ginseng 5-1 extract-25 mg
L-Alamine-50 mg
Avena Sativa 10-1 extract-25 mg
Horsetail standardized-25 mg
Gamma Oryzanol-25mg
Stinging Needle 4-1 extract-25mg
Zinc-5 mg
Pygeum 30-1 extract-25 mg
Selenium 100 mcg
Pumpkin seed standardized-25 mg
Ginkgo Biloba Extract-10 mg
Prost FX #20682-60 Capsules-
Retail $42.50
Member Wholesale Price: $31.50
Buy wholesale!
Become a Preferred Customer and save 30% off Retail prices for FREE
Click To Order
Retail Price $
42.50
Toll Free 1-888-441-4184